Year ago, before becoming a pastor, I took a business trip to Dallas, Texas. The purpose was to learn how to teach, "Born to Win" a motivational seminar designed by Zig Ziglar. While there, I was given a book also written by Zig: "Confessions of a Happy Christian." I read all of "Confessions" that night in the hotel room. Somehow Zig's experiences touched my heart in a way that dramatically changed my life. I literally could not stop reading this special book.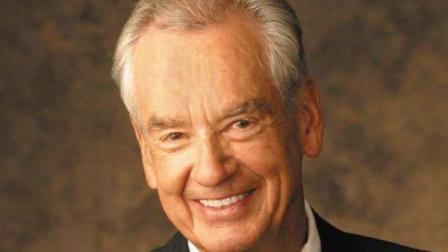 The next morning after staying up all night reading, crying, thinking and praying, I gave my heart and soul to Jesus Christ.
When Zig Ziglar died a few days ago, I lost a friend and mentor. Many times over the course of my life and career Zig has gone out of his way to offer encouragement. He would later sign the book that changed my life and added a Scripture verse from the Gospel of John that continues to guide me and my ministry today.
John 15:5-8: "Yes, I am the vine; you are the branches. Those who remain in Me, and I in them, will produce much fruit. For apart from Me you can do nothing.  Anyone who does not remain in Me is thrown away like a useless branch and withers. Such branches are gathered into a pile to be burned. But if you remain in Me and My words remain in you, you may ask for anything you want, and it will be granted! When you produce much fruit, you are My true disciples. This brings great glory to My Father."
Zig also gave me a lapel pin with the symbol of a fish. Drawn through the fish symbol is the number 7. Zig designed the pin knowing people would ask: "What does the pin mean?"
Zig would answer, "the fish means that I am a Christian. The 7 is a reminder that I am to practice my faith all 7 days of the week." Zig knew at that point there would be an opportunity to talk about our faith in a nonthreatening way to friends, family and even complete strangers.
For many years, I have worn that pin and explained the meaning. I have given hundreds of those same pins away and often hear about others telling the same story. So, in addition to helping me discover my faith in Jesus Christ, Zig Ziglar also taught me how to share my faith with others.
Author, motivational speaker, super salesman, Sunday school teacher, Zig Ziglar epitomized his most famous saying: "You can have everything in life that you want if you just help enough other people find what they want."
Rev. Mark Miller a fellow pastor and Zig fan shared a list of Ziglar quotes. I remember them all:
"Your attitude plus your aptitude determines your altitude."
"The elevator to success is broken, but the stairs are always available."
"Some people find fault as if there is a reward for it."
"Positive thinking won't allow you to accomplish anything, but it will let you do everything better than negative thinking will."
"If you aim at nothing, you will hit it every time."
"Those who dare not, do not."
"If you treat your wife like a thoroughbred, you'll never end up with a nag."
"A lot of people quit looking for work as soon as they get a job."
"People say that motivation doesn't last. Well, neither does bathing. That's why we recommend it daily."
"If you learn from defeat, you haven't really lost."
"If you have stinkin' thinkin', then you need a checkup from the neck up." (My favorite).
Mark went on to comment: "Some people might find Zig's little quotes and comments to be a bit old fashioned or even a bit cheesy. But I find them to be funny, inspiring, consistent with scripture, and therefore true. Most of all, I find them to be motivational. And we all need a little motivation now and then."
God worked through Zig Ziglar to profoundly influence my life and I will always be grateful.
Since that time in Dallas, my life changed dramatically from business leader to pastor to supervising pastors. More than ever, I remember and rely on the lessons learned through the teaching and example of Zig Ziglar.
Several years before his death, Zig fell down the stairs and sustained a serious head injury. At eighty years of age, Zig lost much of the energy and vitality that made him famous. In the midst of everything, Zig maintained his enthusiasm for living. "Focus on what you can, not what you can't do" became his new mantra. "It isn't what happens to you, but how you respond to what happens to you that makes the difference."
Zig Ziglar's final book written with the help of his daughter, Julie, documents his final years: "Embrace the Struggle: Living Life on Life's Terms."
The first page says: "If you will embrace the struggles that come your way, you will go farther, faster and be blessed by the unexpected turn of events more than you could possibly have imagined." Even in his final years, Zig Ziglar provided a powerful lesson and an awe inspiring example of how to deal with tragedy and how to live out your final days.
The introduction ends with the following statement: "My wish for you as you journey through this book is that you will count your blessings until your gratitude bucket is full, and if you or someone you love is in a struggle, take courage and press on because, as the Ziglar family has learned, it is in the depths of the struggle that God reveals His eternal blessings."
My life has been blessed over the years knowing and learning from Zig Ziglar. My life's goal has been to be the same kind of encourager and mentor for others that Zig has been for me. My final words come from Zig himself: "Go as far as you can see, then you can see farther." Amen.